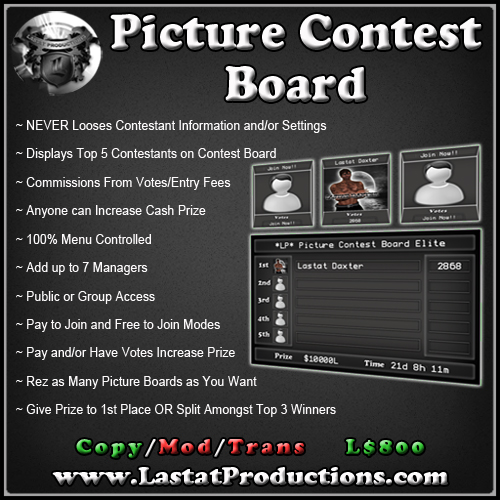 Want a good way to drive your traffic through the roof!? How about a fun way to make cash fast!? The Picture Contest Board can help your traffic sky-rocket and earn cash while everyone is having fun doing it! Run theme based picture contest for added excitement! This board offers endless features and customizations including but in no way limited to: setting an entry fee if desired, setting the price per vote, the max amount of votes allowed per day, commission percentage, group or public access, or choosing 1 winner or the top 3 winners. The new state-of-the-art data saving technique allows you to configure the entire board via dialog menu without even editing the board!! This new technique ensures the saftey of ALL board settings and contestant information against SL server interuptions and/or sim crashes. You can even reset the scripts and the information will still be there. ("Clear" buttons have been included to restore factory defaults *owner only*) The board is safe for your contestants too! They dont have to worry about being cheated since these boards are sold "NO MOD" however, everything is copiable so you may rez as many as you like!

Soooo... what are you waiting for!? Get yours NOW!!
1) Rez the Picture Contest Board
2) Rez the Picture Contest Board Server AND grant it debit permissions (failure to do this means no-one receives any money, prize or refund)
3) IF you wish to give out a notecard when avatars click on any of the picture boards, right click and edit the Picture Contest Board Server, then drag your notecard from your inventory into the contents folder of the build window
1) Touch the Picture Contest Board for the owner/manager menu
2) Use the menus (detailed instructions in menus) to configure contest settings
"Managers"

= *owner only* Managers menu

"Settings"

= Settings menu

"Turn On/Off"

= Toggle the board on or off

"Open/Close Voting"

= Allow or disallow voting

"Help"

= Offers a link to the online manuals and support information

"Update"

= Checks for Updates

"Reset"

= Reset menu
3) Click the Picture Contest Board and choose "Pic Board" and the board will give you a pic board
4) Rez as many picture boards as you'd like (You may add more at any time during the contest)
5) You may touch a Picture Board for the following menu
"Use"

= Use the board yourself (only if available)

"Clear"

= Clear this Picture Board (removes contestant including votes)

"Reset"

= Resets scripts (does NOT loose ANY contestant data)
** NOTES **

~ This product uses llTextBox, so make sure your using an up-to-date viewer that supports this function (if your unsure, contact Lastat Daxter in world via notecard and request a llTextBox test prim)
~ If a potential contestant fails to add a texture uuid in the textbox within 5 minutes, the board resets and refunds them an entry fee if applicable.
~ Each Picture Board will attempt to put its contestant on the Picture Contest Board Elite every 30 seconds.