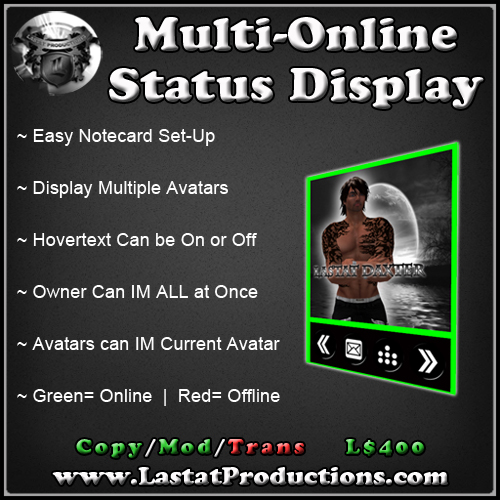 Do you need to show many avatars' online statuses but fit within a prim limit? The Multi-Online Status Display will allow you to show up to 255 avatars' online statuses and profile pictures, all in 7 prims. It is set up like a vendor with "Next" and "Back" arrows to navigate through the avatars. There is an "Envelope" button that will allow anyone to send a message to the shown avatar. The Owner menu allows the owner to send a massive IM to every avatar, or send messages to specific avatars through the "Primary Message" button.
1) Rez the display, right click it and select "Edit"
2) Under the "Content" tab in the build window, open the notecard "Avatar List"
3) Here there are a few examples of how to add avatars to the list by their "NAME&KEY"
Ex:

Lastat Daxter&fa4531f5-ab70-4e53-a62e-7186e49116de
1) Click on the "Menu" button on the display to prompt the Owner Menu with the following options
"Text"

= Turn hovertext On or Off

"Help"

= Link to website for online manual and product support information

"Get UUID"

= Get the key of the displayed avatar

"IM All"

= Send an IM to all the avatars on the list

"Reload"

= Reload the notecard after adding/removing avatars
2) To send an IM to an individual avatar, click the "Envelope" button when on their status display
3) Copy the randomly generated channel and avatar's name and paste it into your Local Chat window
4) Type your message after the pasted information and hit the "Enter" key