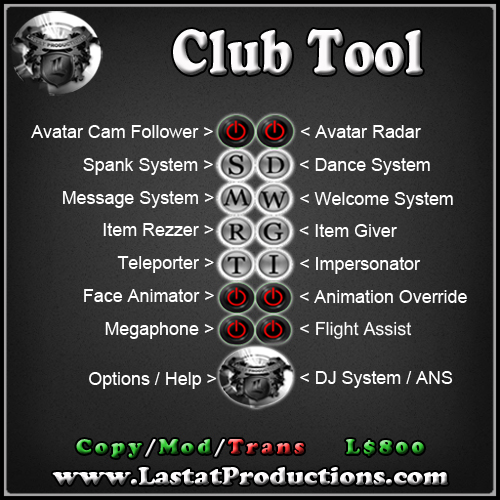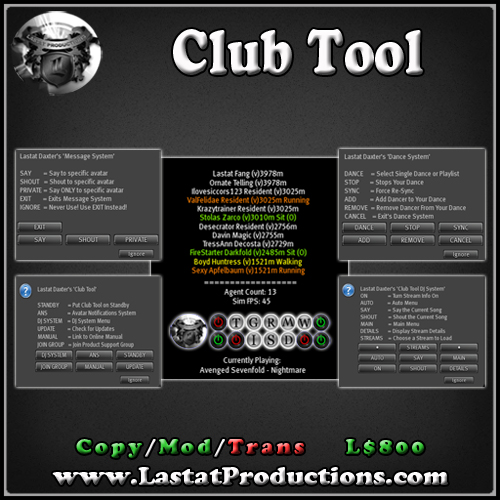 The Club Tool from Lastat Productions is an all-in-one HUD perfect for club goers, hosts, DJs, managers and all frequenters of Second Life. Stop overwhelming your screen with multiple HUDs trying to get all of the best features. The Club Tool includes 16 of the most useful features, ALL in one HUD! Choose the Tall & Thin style or the Short & Wide, both formatted to fit on your screen at any HUD attachment location.
Club goers can put all of their favorite landmarks into the Teleporter, spank friends and fellow club patrons using the Spank System and show off their mad skills using a customized playlist from the Dance System. Hosts can use the Avatar Notification System to be instantly notified of a new guest and send them a warm welcome message using the Welcome System. These are just a few of the MANY ways that the Club Tool can be used to save you time and energy, ensuring that you have the best experience possible while in Second Life.
Have a favorite dancer you like to watch? In a rush to find a friend nearby? Use the Avatar Cam Follower to focus your camera on a nearby avatar of your choice! The camera will stay focused on that avatar until you turn it off.
Checkout who's around you at the club, yell at/boot the person wearing too many scripts, invite the newest club patron to the group and much more! Customize the radar by choosing to use avatar legacy or display names. See the distance that the avatar is from you, as well as how many scripts that avatar is wearing. Each name on the list is clickable, providing you with a dialog FULL of options for that avatar.
Have fun and be naughty using the Spank System! Choose any avatar within Say or Shout distance from a menu to spank them up to 50 times. Retaliate against spank attacks using the built-in retaliator! Customize the message to do more than spank!
The Dance System gives you the ability to sync as many avatars with you as your heart desires, with the ability to add, remove, or re-sync dancers as needed. Use the included dances or add your own. Customize playlists by setting the duration of time between dances.
Choose to Say, Shout or deliver the message Privately, using whole or first names of avatars. Easily access your favorite emotes and send them to your friends! Earn extra tips with clients by sending them special, private messages. Includes over 30 pre-made messages/emotes with the ability to add your own.
Greet newly detected avatars with a custom welcome message. Whisper, Say, Shout, Private and Random message delivery options. Ability to set message via chat, using customizable chat channel and choose to use first or full name of avatar.
Add items that you want to access quickly and rez in front of you (assuming you have the ability to rez on the land). Includes FREE Lastat Productions Advanced Tip Jar (valued at $200L!) and pose stand.
Easily access items that you wish to give away by selecting an item, then selecting the avatar that you wish to give the item to. Includes Gangster AO, Avatar Key Giver, Dance Animations, Full-Perm Book, Hello Multi-Tool, Lol Thrower HUD, R7 Crazy AO, Speed Ball, Symbols Notecard, Undeformer, LP Landmark and LP Info Notecard.
Manage ALL of your favorite landmarks by adding them to the Teleporter. Quickly teleport to any landmark by choosing from the dialog menu. Stores unlimited amount of landmarks!
Get into character during RP or just goof around with friends using the Impersonator! Add up to 10 different names OR choose a nearby avatar to impersonate.
Always making announcements at a club or event and worried that everyone nearby may not see your message? Use the Megaphone to repeat the things you type, including gestures, to everyone within 100 meters of you!
Show off your attitude and personality using the Face Animator. Choose Happy or Unhappy animations, with 10 animation styles in each category.
Ability to add up to approximately 10 stands/walks and 10 sits/ground sits. Create your own, unique AO by adding a variety of animation styles. Replace standard, boring animations with fun, custom animations of your choice using top of the line ZHAO II Engine!
Make running your set easier by using the DJ System. Optionally set the land's music URL too! The DJ System also displays the current song and can automatically say/shout new songs or announce songs with the click of a button.
Never miss greeting a new visitor again! The ANS notifies you with an optional sound as well as in chat when a new avatar arrives nearby. The avatar's name, as well as the distance they are from you is displayed in the message.
Allows you to fly above the clouds and at an accelerated rate.
The Flight Assist allows you to fly ABOVE the clouds and at a FASTER rate! It can be turned Off when not in use.